Yesterday, Sharyl Attkisson, a known anti-vax reporter and conspiracy theorist, released an interview with President Trump regarding the coronavirus pandemic.
As with almost every interview with our new President, the interview is contradictory, somewhat nonesensical, and completely devoid of accurate information. The full transcript has been released for your reading pleasure, and I will cover the main points in this post.
But first, let me provide "background information" on the characters of this particular play.
Trump's Dabbling (And Babbling) in the Anti-Vax Community
For several years now, Trump has been a supporting voice for the anti-vax movement. Years before his election, Trump questioned the link between vaccines and autism. There has even been rumors posted about how he may have adjusted his youngest son's vaccine schedule to prevent him from "contracting autism", which we all know now to be virtually impossible.
In the 2007 interview with the Sun-Sentinel, Trump said of his then-22-month-old son: "We've taken him on a very slow process. He gets one shot at a time, then we wait a few months and give him another shot, the old-fashioned way. But today they pump the children with so much at a very young age. We do it on a very, very conservative level."

Source: Insider.com
However, if Trump had taken the time to listen to experts and medical professionals, he would have learned that the current vaccine regimen has been carefully evaluated and is the safest method of providing vaccinations where the efficacy is maximized, and risk of contracting the disease is minimized. The "conservative" method he touts is playing with fire, and unfortunately a common method used by anti-vaxxers to scare new parents.
Fast-forward to the presidential election, Trump has continually bashed vaccine schedules and reportedly never receives his flu shot.
"I've never had one and that's why I've never had the flu. I don't like the idea of injecting bad stuff into your body, which is basically what they do."

Source: Opie & Jim Norton
Now, during the worst pandemic in modern history, Trump has turned a new leaf. In fact, Trump has repeatedly said that he cannot wait for the vaccine to become available. He has repeatedly met with pharmaceutical executives telling them to speed it up, as if that actually makes the progress move any faster.
Trump has even gone as far to suggest the flu shot would work as a vaccine for SARS-Cov2 (spoiler alert: it doesn't) even after his extensive team of medical professionals have told him it would not.
Unfortunately for the American people, we have elected a president who blatantly ignores any sort of scientific evidence that he disagrees with, during arguably one of the most crucial times in our nation's history. Perhaps we will learn this lesson for the upcoming election, though I can't help but visualize the lives that were lost to learn this lesson.
Sharyl Attkisson
Attkisson, a national reporter for at least 20 years, has become a household name for anti-vaxxers. Since at least 2007, she has written and and shared pseudoscientific reports of vaccine safety, and currently is the host of Full Measure a weekly Sunday news program.
In 2019, she published The Vaccine Debate and touted it as an investigated report on "one of the biggest medical controversies of our time: vaccines." The report supposedly possessed "new" information that would shed light on the government conspiracy that is vaccines. What it actually did was re-hash up all the same points that were misrepresented in the late 2000's during the Autism Omnibus. I have decided not to go into massive detail here, but David Gorski, a well respected surgeon and scientific communicator has written about it extensively.
Needless to say, she has been a staple in the anti-vax community for decades. Seth Mnookin, Professor of Science Writing at MIT wrote this about her.
For years, CBS News's Sharyl Attkisson has been one of the least responsible mainstream journalists covering vaccines and autism. Again and again, she's parroted anti-vaccine rhetoric long past the point that it's been decisively disproved.

Source: Seth Mnook
Full Measure: President Trump on Coronavirs
Now let's get to the deets. Attkisson posted the transcript for the interview on her website (subitle: Untouchable subjects. Fearless. Nonpartisan Reporting….yeah right). You can also find the link to the actual episode, but why should we have to suffer more than we already do? I'd rather listen to the cats outside my apartment who insist on "romancing" each other at three in the morning.
Okay, okay, I am done being catty…. see what I did there?
The interview starts with Attkisson discussing the estimated death toll from COVID-19 if we had not shut down.
Sharyl: Can you take us to the moment when you remember first hearing about the highest projections? We're talking millions, and we had not been told that yet in the public, but I assume you were told that first. Were you thinking, how is this to be believed? Was it startling and frightening?

President Trump: So I was hearing millions of people, and it would have been millions of people if we didn't shut down. Now, would I shut it down again? No, because we understand it now much better. We didn't know anything about it, it was new, it was fresh.

Sharyl: You mean you would not have, in retrospect, shut down the-

President Trump: I would have done exactly. We've done the exact moves that I would have done. And I did it early. Tony Fauci, Dr. Birx, they all said what I did was incredible. In retrospect, Tony, as you know, never thought he was going to be as severe as it was. And we're talking about months later, a long time after I did the ban. I did a ban and nobody thought I should do it. I mean, literally I don't think anybody thought I should do it. I made that decision by myself and it turned out to be a great decision. Hundreds of thousands of lives are saved.

Source: Sharyl Attkisson
Okay what now?? He says he would not shut down the country because "we didn't know better" but then literally seconds later says it is the smartest most incredible decision he has ever made? Which one is it then?
Lucky for us, Trump did eventually decide to shut the country down, and saved thousands if not millions of lives. Somehow, I doubt it was his idea, and he has repeatedly said it was a mistake and would never do it again.
He even mentions that nobody thought he should shut down the country, which is completely inaccurate, but then criticizes a Columbia University study that suggests he should have done it sooner.
Sharyl: A Columbia University analysis said that had the lockdown or social distancing happened sooner, the analysis said almost all of the lives that have been lost could have been saved. And then, a New York Times reporter issued a tweet that implied you are culpable for those deaths.

President Trump: You know It's a disgrace what I watch from this fake news media and from some of these liberal institutions. Columbia is a liberal, disgraceful institution to write that because all the people that they cater to were months after me, they said we shouldn't close it. I took tremendous heat, you know this. When I ban China from coming in, first time anything like that ever happened, I took tremendous heat. Tremendous, like a level that I've never seen anything like it. And that went on for months. They were criticizing me, sleepy Joe Biden said I'm xenophobic meaning I don't like people, certain people. And other people said as bad as that or worse. And that was in January. And I saw that report. It's a disgrace that Columbia University would do it, playing right to their little group of people that tell them what to do.

Source: Sharyl Attkisson
They continue the discussion of coronavirus with a mention of Trumps hydroxychloroquine medication regimen.
Sharyl: Many people are taking the government guidance on the anti-malaria drug, hydroxychloroquine to basically ward them off of using it and trying it. On the other hand, there are current experiments going on by National Institutes of Health and academic institutions, including for preventive uses possibly, you're finishing your two-week course of hydroxychloroquine, correct?

President Trump: Finished, just finished, yeah.

Sharyl: But is that mixed messages when even scientists say they feel that the government is telling them, or telling people at least, to be very careful and not use this while the President of the United States is using it, and while researchers are studying it actively?

President Trump: Well, I've heard tremendous reports about it. Frankly, I've heard tremendous reports. Many people think it saved their lives. Doctors come out with reports. You had a study in France, you had a study in Italy that were incredible studies. Look, if somebody else were promoting it other than me, call it a promotion because I want people to get better. I don't get anything. I don't gain anything other than if it's something that helps, that's a good thing. That's what I want. That's all I want. I believe in it enough that I took a program because I had two people in the White House that tested positive. I figured maybe it's a good thing to take a program. You know, we take a little bit of a period of time, I think it was two weeks. But hydroxy has had tremendous, if you look at it, tremendous, rave reviews.
It does NOT have tremendous, if you look at it, tremendous, rave reviews.
The rest of the interview discusses claims against Joe Biden, and throwing the first pitch at a baseball game. Both of which are outside the scope of this blog.
Again, we should not be surprised by the claims that escape Trump's mouth. Science communicators have been dealing with it for years. Except now, he is the leader of the United States, and people take his claims much more seriously. The fact that he chooses to use this global pandemic as another method to pat his back and continue his rant on pseudoscience is disgusting, and it is going to cost more lives than what it already has.
NOTE: THE ARTICLE CITED IN THIS POST HAS BEEN RETRACTED DUE TO CONCERNS OF DATA REPRODUCIBILITY. THE INFORMATION ON THIS BLOG POST THAT REFERENCES THE LANCET ARTICLE IS INCORRECT, AND THE DATA SHARED SHOULD NOT BE TRUSTED.
PLEASE READ MY UPDATED BLOG ON THE ARTICLE AND THE ISSUES CURRENTLY BEING ADDRESSED ABOUT THE ORIGINAL LANCET POST.
It has been a rough ride for everyone over the past two months. Fighting a pandemic and getting used to the new "normal" has been challenging. And of course, like every other disease, pseudo-scientific treatments against SARS-CoV-2 have sprung up like weeds.
However, in mid-March a small study suggested that Hydroxychloroquine, a drug designed for malaria, may be a useful treatment for COVID-19.
The study erupted and people began requesting this "miracle cure" from their doctors. Some doctors even began hoarding it for their family members and prescribing it without investigating the evidence thoroughly.
The initial study that suggested hydroxychloroquine (or hydroxychloroquine in combination with an antibiotic such as azythromycin) for treatment of COVID-19 has been debunked, and I will not address the issues in the article directly. You can find a great article discussing this paper here.
Almost immediately after the publication of the article, it was deflated by researchers and other medical professionals, but the damage was already done.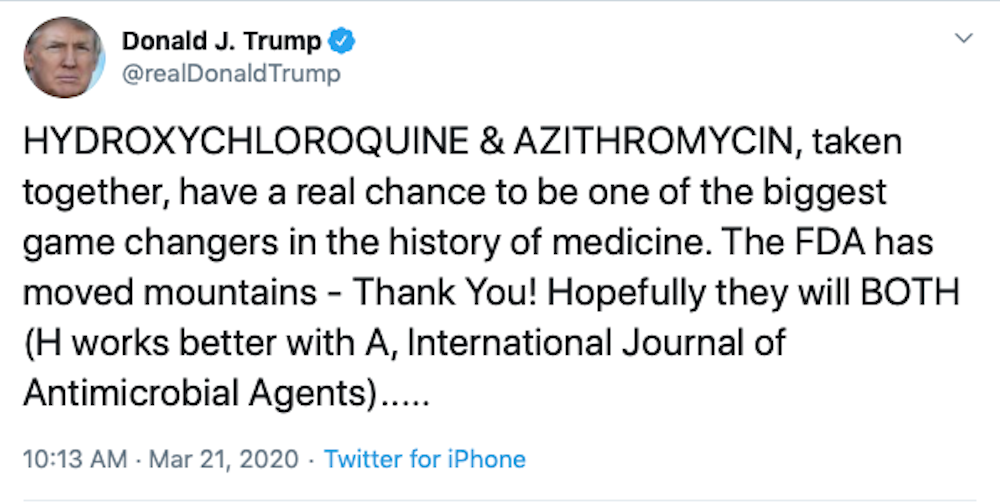 President Trump of course had to put in his two cents in, without any sort of consultation with a doctor. It was even reported that he has been taking chloroquine to try and prevent himself from contracting COVID-19.
Dr. Oz and several other opportunistic doctors have been touting the miracle cure of hydroxychloroquine and have been recommending it for those who might be nervous of getting COVID-19.
As many scientists have been warning, the risks of taking hydroxychloroquine and azythromycin do not necessarily outweigh the risks. Both chloroquine and azythromycin have a risk of developing cardiac arrythmias, and patients who take them should be monitored closely by a doctor.
Not only are is chloroquine dangerous, but it also is a very necessary treatment for malaria as well as rheumatoid arthritis. This recent spike in prescriptions has led to a shortage of the drug for those who actually need it.
Cut to this week, where a recent study published in The Lancelet discovers that, in fact, chloroquine is not the miracle cure we have been looking for.
In the study, the researchers examined 96,032 patients where 14,888 received one of four treatments (chloroquine, chloroquine+macrolide, hydroxychloroquine, hydroxychloroquine+macrolide) and 81,144 in the control group received none of the above (in this study macrolide was either azythromycin or clarithromycin).
The patient population was also diverse and across several nationalities.
The study cohort included 63 315 (65·9%) patients from North America, 16 574 (17·3%) from Europe, 7555 (7·9%) from Asia, 4402 (4·6%) from Africa, 3577 (3·7%) from South America, and 609 (0·6%) from Australia
When you compare this to the previous study, where only 36 patients from two different nationalities were evaluated, it shows just how more comprehensive the study is.
The most remarkable data from this article is the bottom four rows of this figure. All of the outlined treatments for COVID-19 resulted in a significant increase in risk of ventricular arrhythmia.
Even after you subtract basal risk of patients with underlying diseases (such as cardiovascular disease and COPD) there is still a significant increase in cardiac arrest with patients taking COVID-19.
While this study is the most comprehensive one available to date, there are still limitations.
The association of decreased survival with hydroxychloroquine or chloroquine treatment regimens should be interpreted cautiously. Due to the observational study design, we cannot exclude the possibility of unmeasured confounding factors, although we have reassuringly noted consistency between the primary analysis and the propensity score matched analyses. Nevertheless, a cause-and-effect relationship between drug therapy and survival should not be inferred. These data do not apply to the use of any treatment regimen used in the ambulatory, out-of-hospital setting. Randomised clinical trials will be required before any conclusion can be reached regarding benefit or harm of these agents in COVID-19 patients. We also note that although we evaluated the relationship of the drug treatment regimens with the occurrence of ventricular arrhythmias, we did not measure QT intervals, nor did we stratify the arrhythmia pattern (such as torsade de pointes). We also did not establish if the association of increased risk of in-hospital death with use of the drug regimens is linked directly to their cardiovascular risk, nor did we conduct a drug dose-response analysis of the observed risks. Even if these limitations suggest a conservative interpretation of the findings, we believe that the absence of any observed benefit could still represent a reasonable explanation.
So while we really do not yet fully comprehend the affects of hydroxychloroquine on COVID-19 patients, we are discovering that it is not something to take lightly. This article was observational in nature, and was not randomized and did not incorporate a double blind placebo group.
Until such a time when a proper clinical trial is conducted and more evidence is analyzed, hydroxychloroquine should not be taken as a preventative measure, or a cure for COVID-19.
As always, this blog is not designed to provide medical advice. Please consult with a physician if you are seeking medical attention.